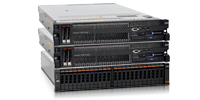 IBM Storwize® V7000 combines the performance of flash and Non-Volatile Memory Express (NVMe) end-to-end with the reliability and innovation of IBM FlashCore® technology, the rich features of IBM Spectrum Virtualize™ and AI predictive storage management and proactive support of Storage Insights™— all in a powerful 2U storage hybrid flash array. Providing intensive data driven multicloud storage capacity, Storwize V7000 allows you to easily add in the multicloud technology that best support your business.
---
Accelerate business execution
Unlock the value of your data and accelerate business execution with end-to-end NVMe-powered IBM FlashCore technology.
Increase ROI
Transform IT infrastructure while increasing ROI by leveraging the power of IBM Spectrum Virtualize to extend a rich set of data services across all your storage systems.
Optimize storage efficiency
AI-powered IBM Storage Insights uses predictive analytics to optimize storage use and delivers proactive capabilities to streamline support.
Hybrid multicloud enabled
Enable enterprises across public, private, and traditional environments. Grow your hybrid multicloud with the flexibility to start small and scale up as business demands or client adoption grows.
Easy to scale
Clustered systems can scale both up and out for performance and capacity. High density enclosures increase the maximum number of drives by almost three times.
Six 9s Availability
Gain the highest levels of availability to support your mission-critical applications.
---
 Key features of IBM Storwize V7000
Powered by IBM Spectrum Virtualize
Modernize your business with End-to-end NVMe
AI-driven management and proactive support
Worldwide network of business partners
Capabilities that can be deployed across hybrid multicloud
Bringing enterprise services to containers
Data reduction options
IBM Easy Tier®
Peace of mind with IBM FlashWatch
Six 9s data availability
Proven dependability
---
Dodatne informacije: